This Reddit Post Answers the Eternal Question: What Does "Porn for Women" Look Like?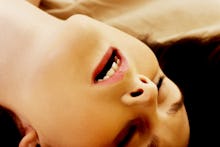 We know that women like porn. But it's not easy for them to find comprehensive and accessible porn sites with lady-friendly content. That's why Reddit user Vanillabean2492 outlined her own fantasy about what her ideal feminist porn site would look like — and women on the internet responded with great enthusiasm. 
In her post, Vanillabean2492 envisioned her ideal porn site which would feature female-centric camera angles, sensual and "dirty" dialogue and "loving" yet "muscular" male performers. She also listed her ideal categories, from "BDSM and humiliation" to a category called "the Female Gays," featuring real lesbians without horrifyingly long nails. 
"There would be no fake moaning or clit slapping bullshit," Vanillabean2492 wrote, "and a zero-tolerance policy on nails that do not belong close to a vagina." 
Hundreds of women chimed in, commenting about what they love and hate mosy about mainstream porn. "The number one thing that will immediately turn me off in most porn is the incredibly fake moaning and fake orgasms," wrote commenter andagainn. "It just sounds so stupid. Next is the jackhammering. Give me a slow grind anytime."
As more than a thousand comments rolled in over just a few hours, a few common themes emerged. In general, commenters seemed to want more authenticity in their porn. Fake nails, distorted baby voices and disinterested performers were all huge turnoffs. On the other hand, flirtatious dialogue and cunnilingus that actually appeared to pleasure the woman were huge turn-ons for commenters of both genders. 
"At least in my experience when people are actually having sex there's still a lot of communication," wrote linglingthepanda. "Seeing two people comfortable enough with each other to tell the other person what they like... would be the hottest thing to me."
Contrary to cultural stereotypes, plenty of women like all kinds of porn. In 2015, a Marie Claire survey of more than 3000 women showed that 31% of respondents watched porn at least once a week. 
Vanillabean2492's desire for a feminist porn site isn't just a pipe dream. There are already plenty of sites offering female-centric porn, and the subreddit ChickFlixxx, where feminists can "share links to great sexual content and discuss porn," has more than 40,330 subscribers. People around the world are working to promote feminist porn and increase awareness about empowering content, like the organizers of Toronto's Feminist Porn Conference, sponsored in part by the organization Good for Her, which also organized the annual Feminist Porn Awards. 
So why is the porn industry so slow to recognize the sizeable and under-served audience looking for porn that celebrates authentic female pleasure? 
Part of the reason why there's such a demand for so-called "porn for women" out there has to do with the fact that the porn industry, in general, is floundering. Thanks to widespread piracy and free sites like Pornhub, porn industry revenue has largely been on the decline. 
As mainstream production companies struggle to find more profitable business models, a handful of filmmakers, like award-winning porn director Jacky St. James with the New Sensations studio, struggle to reach mainstream audiences. 
"There's an overwhelming amount of feminist porn content out there," St. James said in a phone interview. "The challenge is if people are looking on tube sites. You really need to look for specific directors. There's no one place where consumers can find it all and certainly not for free." 
Stigma still prevents a sizable portion of women from speaking openly about their porn consumption habits, which makes them less likely to pay for it and spread the word about feminist studios. 
"There are so many different studios creating this content but you won't see them promoting competitors," St. James said. "Many women don't know. [There's a lack of] accessibility and lack of knowledge about where that content exists." St. James also believes the lack of resources for nationwide publicity keeps feminist porn producers pigeonholed in niche markets. 
So even with all the changes the sex industry is undergoing in digital spaces, there's still a long way to go before Vanillabean2492's fantasy of easily accessible, feminist-friendly porn is a mainstream reality. 
Read more: