Drake Joe Budden Meek Mill Feud Explained — The 7 Moments That Led to This Mess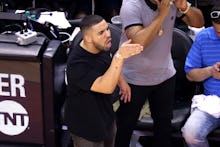 Yet another rapper is coming for Drake's throne. Over the past two weeks rapper Joe Budden has aimed two diss tracks at the 6 God, accusing him of using fake accents and stealing music from his prodigy PartyNextDoor. But this time, there's a twist — it appears the Canadian-bred hitmaker simply doesn't give a fuck. 
Joe Budden, prolific mixtape solo artist and member of the rap supergroup Slaughterhouse, has been unleashing his harsh criticism of Drake in newly released music and podcasts, and with his tweets. However, Budden, who you may also know as Love & Hip Hop's heartbreaker, insists Drake started it, pointing to some very densely coded lines in "4pm in Calabasas" where Drake shadily talks about Budden's "envy."
Yes, it's absurdly complicated, and yes, in 2016, hip-hop beefs can resemble high school fights between the popular kids and members of the AV club, and still be considered beefs. But here's a breakdown of what's happened so far, with a glimpse into why we'll probably never see a Drake response.
1. In his podcast, Budden says Drake's latest album Views sounds "uninspired."
"I said the other day on this podcast," Budden says. "I miss the Drake that starts the waves, not hops on other waves ... And I'll say it again: I miss the Drake that pushes the fucking agenda, not lets the agenda push him."
2. Budden then hears Drake's "4pm in Calabasas" and assumes he's being called out.
The specific line that made Budden tweak was "All the sudden I got people showing how much they truly resent me/ They whole demeanor just spells envy/ They tryna tempt me."
As Genius noted, "spelling envy" could have been a reference to Fat Joe's album Jealous One's Envy, which — if you break down into its acronym — spells J-O-E. Budden took Drake's message of staying above the hate as a personal response to his podcast "review" of Drake's latest album.
Drake has not confirmed whether he's ever listened to Budden's podcast.
3. Budden releases six minute diss track, "Making A Murderer (Part 1)."
Drake's subliminal diss pushes Budden to go off in a freestyle. He accuses Drake of copying his style, as well as making some digs at Drake's older work (ahem, Sprite). Budden even gets close to sounding like he's siding with Meek Mill, an artist both him and Drake have had beef with — and Drake actually responded to — before making it very clearly stating "fuck him too."
4. Drake still doesn't respond to Budden, but Meek Mill finds the time to do just that:
"He's been dead since 2003; it's evident," Meek Mill captioned an Instagram photo of himself, though seemingly referring to Budden. "We don't talk to dead people unless they presidents." So there's that.
5. Budden releases yet another diss track aimed at Drake, despite not even getting a text back.
With "Wake" Budden steps up the personal attacks, now accusing Drake of holding his hip-hop prodigy PartyNextDoor's album so he can use the ideas for his chart-breaking hits: "No really, we want a party album," Budden raps. "But you keep stealing all of Party's album/ To go and put it on your party album."
6. Drake still doesn't respond.
7. Budden turns to Twitter hoping he might have the same success his other arch-nemesis Meek Mill did in getting Drake's attention on the social platform. 
As Uproxx noted, it appears Drake might be taking a note from a predecessor who held the throne before him: Jay Z. HOV hopped on Drake's 2010 "Light It Up" rap with this foreshadowing line: "Drake, here's how they gon' come at you/ With silly rap feuds, trying to distract you." 
At least the two rappers can agree on one thing: Even in the midst of Twitter beef and rap wars, the most important online conversations about black lives lost and racial injustice should be lifted above all. 
Read more: