What You Need to Know About Chris Christie, Donald Trump's Potential Running Mate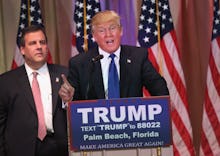 New Jersey Gov. Chris Christie was one of the earliest members of the Republican establishment to climb aboard the Trump Train — and as such, was one of the first names to leak as a member of Trump's vice presidential short-list.
Christie endorsed presumptive GOP nominee Donald Trump shortly after his own White House dreams were dashed following a disappointing finish in the New Hampshire primary.
And he's been a fixture as a Trump surrogate on the campaign trail ever since, standing behind Trump at news conferences and raising money for the campaign.
Here's what to know about Christie.
Who is Chris Christie?
Christie is currently serving his second term as governor of New Jersey.
Before becoming governor, Christie was the U.S. attorney for the District of New Jersey — a role he was appointed to by former President George W. Bush, and one in which he served from 2002 until 2008.
During his time as New Jersey's chief federal law enforcement officer, Christie prosecuted terrorism cases and led a team of prosecutors that helped convict high-profile government officials in corruption scandals. He also prosecuted real estate developer and Democratic fundraiser Charles Kushner, whose son, Jared, is married to Trump's daughter Ivanka and is an influential figure in the campaign.
Why would Trump pick Christie?
Christie is an adept fundraiser, raising millions from Republican donors across the country during his term of chair of the Republican Governors Association in the 2014 cycle.
He's unafraid to be an attack dog against Clinton, a major role that Trump's eventual running mate will assume.
And Christie also has nothing to lose.
He's in his second term as governor. And he lost his own primary bid for president in 2016, making a spot on Trump's ticket one of his only paths forward in electoral politics.
What are Christie's downsides?
Republicans have said Trump should pick a running-mate who would balance out his perceived shortcomings, including his penchant for off-the-cuff statements and instinct to fight back against his naysayers.
Christie would not provide that balance.
During his own unsuccessful presidential bid, Christie ran on his "tell-it-like-it-is" style — even using the phrase on banners at his New Hampshire town halls.
He's gotten into arguments with constituents and voters alike during his time as governor of New Jersey, as well as on the campaign trail.
And Christie is also embroiled in his own controversy back home, where allies connected to the "Bridgegate" scandal, over the politically motivated lane closures on the George Washington Bridge, will go to trial in September.
With Trump facing his own legal battle over Trump University, picking Christie could be more of a liability than a benefit to the Trump campaign.
How likely is Trump to pick Christie?
Trump is more likely to pick Christie than he is to pick others on the short-list, such as Oklahoma Gov. Mary Fallin and Indiana Gov. Mike Pence.
Unlike Fallin and Pence, Christie was an early endorser and has been a Trump ally from the race's early days — which Trump could reward with a VP offer.
But Christie's Bridgegate baggage, as well as his brash personality, are likely working against him in becoming Trump's No. 2.
Read more: