Ramsey Orta, Man Who Filmed Eric Garner Chokehold, Will Likely Go to Jail for 4 Years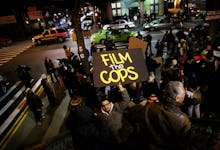 Ramsey Orta, the man who filmed the death of Eric Garner in summer 2014, pleaded guilty on Thursday to drug and weapons charges. 
Orta, 24, collected paperwork from Manhattan Criminal Court Wednesday, and will be going to prison upstate per a plea deal. He faces a four-year sentence under his agreement.
In July 2014, Garner died after being placed in a deadly chokehold by a New York Police Department officer. Later that year, a New York grand jury declined to file charges against the officer responsible for the death, Daniel Pantaleo. 
"I'm supposed to be copping out," Orta told the New York Daily News. "I'm pretty much tired of fighting." Orta has said that he has been a target of the New York Police Department ever since videotaping Garner's chokehold death.
"And from then on, I've been targeted by NYPD," Orta told Democracy Now! in a January interview. "I got five pending cases right now — two in Supreme Court, three in criminal. Since then, I've just been harassed. I've been almost killed in Rikers Island."
Orta alleged that rat pesticides were placed in his food during his time at Rikers Island, so he refuses to eat the food there. "I'm not going to eat the food that's being provided," he told the New York Daily News.
A year after Eric Garner's death, protesters were still going to prison in their quest for justice. 
"We still haven't seen justice," Justice League NYC activist Tamika Mallory said, who was arrested in December. "We know that the families have received a settlement, but even they have said no amount of money equals justice for a man who took the life of their loved one who we consider to be a part of our community." 
Read more: