iPhone 7 Rumors: Camera Improvements Could Mean Better Photos in Your Future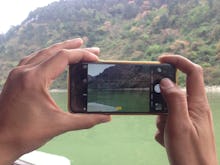 The iPhone 7 might be worth buying, if just for the camera. 
Thanks to Instagram, Snapchat and narcissism, our smartphones have essentially become portable computers connected to high-quality cameras. There might be some good news for all of the camera hogs out there: New images — reportedly of the iPhone 7 — show a space for a larger camera lens.
These "leaked" images — allegedly from someone in Apple's supply chain — show a larger hole for the iPhone's camera, according to 9to5Mac and the Next Web. A larger hole could mean a larger lens, which could mean better photos.
The most recent camera-related iPhone rumor was that the iPhone 7 would have a dual-lens camera. This was exciting, since dual-lens cameras let you take different types of shots, including wide-angle photos. Unfortunately, that rumor is likely not true. 
The iPhone 7 will likely be unveiled this fall, but you might want to wait for the iPhone 8 if you're looking for something really new and different. 
Read more: