Calvin Harris Maybe Wrote a Song About Taylor Swift Cheating, Beat Her at Her Own Game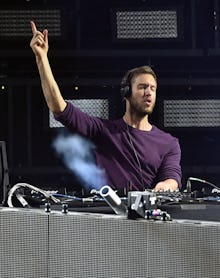 Looks like Taylor Swift's former lover, Calvin Harris, beat Swift at her own game — he wrote a cheating song first. 
And that's why you never date a musician.
TMZ reported that in "Olé," Harris' latest musical collaboration, the lyrics are written from the perspective of Tom Hiddleston, Swift's current lover. John Newman provides the vocals and, according to one of his Twitter posts Thursday, the song will drop 8 a.m. GMT (3 a.m. Eastern). 
"I see online that you begun to be a good girl and take trips with your boyfriend/ Being attentive, continue to pretend," the lyrics read, according to TMZ. 
"You've hidden my name in your phone, so you can call me to tell me you've been going through hell," the song reportedly continues. "Left him alone and you booked in a hotel."
TMZ speculated the lyrics reference Loki, one of Hiddleston's more well-known roles, from Thor: "Low key, you won't tell none of your friends about me."
If we're lucky, a Swift clapback song is already in the works. Who are we kidding — of course it is.