The iOS 10 Beta Download Is Now Available — And Thousands of People Are Pissed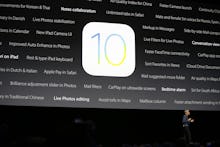 Apple's iOS 10 launched in public beta on Thursday. Warning: it may be buggy as hell. Apple rolls out a new operating system nearly every year — and thousands of people are not having it.
A SumOfUs petition argues that Apple is "sabotaging" its devices with these operating system updates, slowing down older generations of iDevices. The petition has at the time of writing this raked in over 150,000 signatures from people who agree that the hype cycle for iPhones is "bananas!"
The petition wants Apple to "ditch planned obsolescence" and stop pushing annual software upgrades that slow down older devices, and instead focus on longer life expectancies of its existing, older models. 
The thing is, you don't have to update your device with the latest iOS — yes, you're going to get pop-ups encouraging you to do so, but you can just click the 'Remind me later' button. Over. and over. and over. No one said resisting obsolescence was easy. 
Apple has been accused in the past of rendering old iPhones "unusable" with an iOS update — it was slapped with a class action lawsuit in 2015, Apple Insider reported.
This supports the petition's argument that older hardware just can't keep up with newer software, meaning upgrading to the latest iOS without the latest iPhone model could degrade the user experience. The petition points out that this is a cash grab. 
"But Apple will be pushing upgrade notices to millions of those customers anyway, because every frustrated user with a sluggish device is another sales prospect," the petition reads. 
For those who almost stopped reading this article after they learned the iOS 10 public beta was available because they were so excited about it, there are perks to updating — the latest operating systems tout design refinements as well as new features and updates. But those holding onto their older iPhone models and wanting the latest iOS may find it's not a match made in heaven. 
Read more: