Kendall Jenner Is Maybe Dating Lakers Player Jordan Clarkson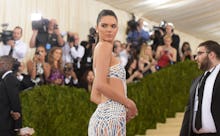 Kendall Jenner, model and member of the Kardashian Klan, is dating 24-year-old Los Angeles Lakers player Jordan Clarkson, multiple gossip magazines are reporting. The two were spotted together at a Fourth of July party. 
US Weekly reported an "exclusive" source that said Jenner and Clarkson are "on and off." "It's just a fun fling whenever's convenient for her," the insider said, adding that it's "definitely not serious."
If true, this would be the first high-profile relationship for 20-year-old Jenner, who's kept her personal life relatively quiet. Or at least, as quiet as possible when you're a member of one of the most-photographed families in the country.
"It's not always easy, but I don't know, I just like to keep my private life private," Jenner told Entertainment Tonight in September. "I try my best, but at the same time, I try not to let being out with someone affect my everyday life. Like, if I want to go out and grab a smoothie with a friend who's a male, I'm not gonna let the paparazzi stop me from doing that and living my life and just being a normal person."
So what does it mean if Jenner is really dating Clarkson? Well, there's a chance he could wind up becoming a character on Keeping Up With the Kardashians (KUWTK, for the uninitiated), like her sister Kylie's on-again-off-again boyfriend, Tyga. 
But if Jenner really intends on keeping her relationships under wraps, she's going to need to stay away from the cameras.
Read more: