Frank Ocean finally drops 'Endless,' a 45-minute visual album via Apple Music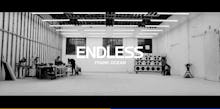 The past two years have been a strenuous, unspeakably stressful era for Frank Ocean fans, who have been patiently awaiting nothing short of an opus from their elusive king. In the late hours of Thursday night, their prayers were answered as the R&B crooner walked backed into his lonely, black and white livestream and finished his latest project.
It happened around midnight: Apple Music released Endless, a 16-track album presented as a 45-minute short film. Boys Don't Cry is rumored to be coming later this weekend. The Endless video splices together footage from his livestream showing multiple Franks working on his staircase from various angles. View it here. 
The drop follows an over two week-long livestream, during which fans watched Ocean slowly build a spiral staircase piece by piece. The ambient wordless interludes the artist played while sawing and hammering away are identical to of some of the instrumentals on Endless.
It's a sweet, angelic, drill and falsetto-filled release from the trials and tribulations Ocean fans have gone through these four years since Channel Orange.
Audiences have been on edge since Ocean first announced he'd be releasing "two versions" of a project in July 2015. He missed that deadline by a little over a year, and has been ghosting his fanbase since, breaking his silence for the occasional Donald Trump takedown or an evocative Prince eulogy. At one point, Ocean's brother went as far as to Rick Roll his thirsty fanbase.
But none of that matters anymore, as the 18-track album offers a new set of Ocean anthems to binge on. It features contributions from Jonny Greenwood, James Blake, Jazmine Sullivan, Arca and Sampha.
Below is the track list, as reported by Consequence of Sound, in all its glory. Savor the songs' rich complexity before they're smothered in hot takes.
1. Device Control (written by Wolfgang Tillmans)
August 19, 2016, 7:44 a.m.: This story has been updated.