10 Songs Hillary Clinton Can Use For Rallies Besides Rachel Platten's Tired "Fight Song"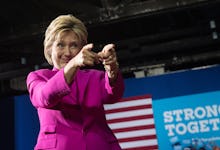 Hillary Clinton avoided receiving any charges in her seemingly never-ending email controversy on Tuesday, but another scandal appears to be brewing around the presumptive Democratic candidate's campaign. This one has to do with her taste in music. 
Clinton could have celebrated her freedom from political scandal with innumerable victory anthems. She could've gone classic with a little Aretha Franklin "Think (Freedom)," or skewed young and hip with Gucci Mane's "First Day Out Da Feds." But no, the former secretary of state arrived on the scene of her first campaign stop with President Obama to her apparent 2016 theme song: "Fight Song" by Rachel Platten. 
Clinton, grinning from ear to ear, clapped her hands as the pair walked on stage, bobbing her head and looking at audience members with an expression that seemed to ask "Isn't this great? I'm having so much fun. Are you having fun? Isn't this song literally the most empowering thing you've ever heard?!" 
Sadly for Clinton and friends, audiences have heard the song one too many times, and they took to Twitter to show it.
In this pivotal moment of her campaign's trajectory, Clinton needs to take a page from her book and make some Hard Choices. The presumptive Democratic candidate needs something new to show her range, fend off her haters or speak to her genuine personality. 
Here are some tunes Clinton should consider using during her rallies to avoid further fallout from playing and re-playing "Fight Song." 
1. Joan Jett's "Bad Reputation"
Think about it: Clinton will never have to respond to any further claims about her track record.
2. Justin Bieber's "Sorry"
Seeking forgiveness rather than asking permission has seemed to work in Clinton's favor thus far. Is it too late to say sorry?
3. Beyoncé's "Formation"
Since she has a documented history of carrying hot sauce in her bag (swag). 
4. Ludacris' "Move Bitch"
In honor of Bernie Sanders' refusal to quit blocking Clinton from being the only Democratic candidate in the race, this would be a great way to commemorate those who need to step aside.
5. Paula Cole's "I Don't Want to Wait" 
Because we're kind of running out of time here.
6. Rihanna's "Needed Me"
The Barbadian-born hitmaker's Anti jam could serve as a subliminal way to tell voters Clinton is needed in the White House. 
7. Kevin Gates' "2 Phones"
One for the load and one for the emails, of course. 
8. KT Tunstall's "Suddenly I See"
Arguably one of the catchiest tunes in history, the Tunstall number narrowly missed becoming Clinton's 2008 campaign theme song. Its message is even more fitting this time around as the former Secretary of State continues to edge closer toward Sanders' platform. 
9. Fat Joe and Remy Ma's "All the Way Up"
Presented without comment. 
10. Rihanna's "Get It Over With"
Because what other options do we really have to choose from anymore? 
Read more: