Piedmont Park Hanging: Twitter Disputes Police Statement That Black Man's Death Is Suicide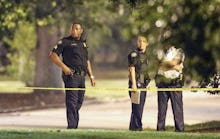 The body of a young black man was found hanging from a tree by a rope in Piedmont Park in Atlanta on Thursday. When emergency responders arrived, he was pronounced dead at the scene. Investigators determined that there was no evidence of foul play or a struggle, and all evidence pointed to a suicide. Case closed. 
That is, until Twitter cried foul. 
Although an investigation is still ongoing, according to the Atlanta Journal-Constitution, users of the social media platform expressed suspicion over the circumstances surrounding the manner of the man's death; as some observed, it bore the hallmarks of a modern-day lynching, just hours after members of the Ku Klux Klan were reportedly seen canvassing the same location.
Others expressed suspicion that a larger coverup was afoot, with police labeling the death a suicide in order to repel media attention from the incident.
One exchange between Twitter users and local news outlet WSB-TV showed the station confirming that it is its policy not to report on suicides.
Distrust of law enforcement official among members of the black community has reached a fever pitch in the wake of the deaths of Alton Sterling and Philando Castile, who died after being shot by police officers on Tuesday and Wednesday, respectively. 
An autopsy scheduled to be performed on the body found in Piedmont Park will determine the official cause of death, the Journal-Constitution reported.
A representative of the Loyal White Knights of the Ku Klux Klan told Mic reporter Max Plenke that the organization had no comment on the matter, and he hadn't heard anything about recruitment flyers being distributed in the park.
Read more: