Beyoncé's Response to the Philando Castile and Alton Sterling Shootings Broke the Internet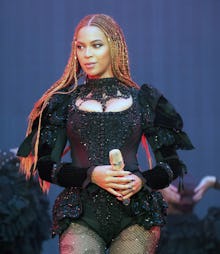 For the majority of her career, Beyoncé has chosen to support specific political causes in a subtle, somewhat secretive fashion. She's quietly supported local charities, slipped subliminal images of resistance into her songs and allegedly helped bail out Black Lives Matter protesters. However, 2016 Bey is not nearly as interested in keeping her raised fist out of the limelight.
Thursday, Queen Bey released a statement on her website addressing the back-to-back shootings of Philando Castile and Alton Sterling at the hands of police in Minneapolis, Minnesota, and Baton Rogue, Louisiana, respectively. She didn't pull a single punch with her language, as she's done in past statements.
"We are sick and tired of the killings of young men and women in our communities," she wrote. "It is up to us to take a stand and demand that they 'stop killing us.'"
She directed her fans to contact their congressmen and congresswomen to "demand social and judicial changes," directing them to contactingthecongress.org; the tidal wave that followed actually seems to have crashed the website's server.
Contacting the Congress bills itself as an "up-to-date citizen's congressional directory for the 114th Congress." It was clearly not ready for the Beyhive's full zeal. Beyoncé did call every one of her fans into the ring, after all. 
"This is a human fight," she said. "No matter your race, gender or sexual orientation. This is a fight for anyone who feels marginalized, who is struggling for freedom and human rights." 
However, she also made it clear this is not an All Lives Matter situation. "The war on people of color and all minorities needs to be over," she wrote. "Fear is not an excuse. Hate will not win."
Read Beyoncé's full statement below. If Contacting the Congress ever goes back online, their resources are available here.
Read more: