Minnesota Gov. Mark Dayton Says Philando Castile Wouldn't Have Been Shot if He Were White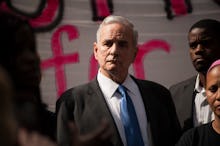 Minnesota Governor Mark Dayton doesn't think Philando Castile would have been shot to death if he had been white.
At a press conference Thursday, Dayton addressed the death of Castile, who was fatally shot by a Falcon Heights, Minnesota police officer during a routine traffic stop. The immediate aftermath of the shooting was broadcast on Facebook Live by Castile's girlfriend, Diamond Reynolds.
"Would this have happened if the driver or passenger had been white? I don't think it would have,"  Dayton said.
"I'm forced to confront, and I think all of us are forced to confront that this kind of racism exists, and it's incumbent upon all of us to vow that we're going to do whatever we can to see that it doens't continue to happen," he added.
Castile, who would have been 33 on Friday, according to NBC, worked as a cafeteria supervisor at a Saint Paul, Minnesota magnet school. There, he was a "role model" who had all the names and allergies of the 500 children he worked with memorized, a retired paraprofessional at the school told TIME.
"He remembered their names. He remembered who couldn't have milk. He knew what they could have to eat and what they couldn't," she said. "This was a real guy. He made a real contribution. Yes, black lives matter. But this man mattered."
During a tearful news conference earlier in the day on Tuesday, Reynolds told an assembled crowd of reporters and community members that she and her 4-year old daughter had also lost an invaluable presence from their lives.
"They took my lifeline, that was my best friend. ... [the officer] killed him in front of us for no reason," she said.
Read more: