State Department Reopens Probe Into Hillary Clinton's Email Use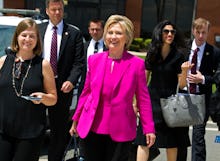 The State Department has reopened its investigation into the use of classified information by presumptive Democratic nominee Hillary Clinton and her staff during her tenure as secretary of state, according to the Associated Press.
Clinton's aides could face repercussions as a result of the internal investigation, even those who are no longer government employees. Those penalties could "range from counseling and warnings to the revocation of an individual's security clearance," according to the AP, which would impede their ability to serve in a future Clinton administration.
The AP named three top aides — Huma Abedin, Cheryl Mills and Jake Sullivan — as among those whose emails are likely to be scrutinized in the State Department's investigation. Abedin and Mills are two of Clinton's closest confidantes, and Sullivan is the top foreign policy adviser to the former secretary of state's presidential campaign.
The newly opened State Department investigation began in January after investigators determined that 22 emails from Clinton's server had contained information that was "top secret," as the AP noted. The probe was paused three months later to avoid interfering with the FBI's criminal investigation.
That investigation was closed on Wednesday, after FBI Director James Comey announced that he would not recommend criminal charges against Clinton or her staff over her use of a private email server. While calling Clinton's use of a private email server "careless," Comey said investigators had found no evidence of intentional criminal activity. 
On Thursday, Comey faced sharp criticism for his decision before a congressional committee, with Republicans casting his move as politically motivated and inconsistent with the rule of law. Attorney General Loretta Lynch, who accepted Comey's recommendation not to bring charges, is scheduled to appear before the committee on Tuesday.
Read more: