5 Police Officers Shot and Killed by Snipers in Downtown Dallas During Peaceful Protest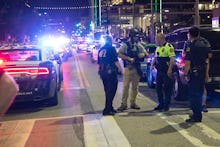 Five police officers were killed in a hail of gunfire that erupted Thursday night near a peaceful protest in Dallas, according to city officials. Dallas Mayor Mike Rawlings confirmed that 14 people were shot in total by a lone sniper who began the massacre in "elevated positions," and then subsequently exchanged fire with law enforcement on the ground in downtown Dallas, according to police.
Twelve of those shot were police officers, and two were civilians, according to Rawlings.
On Friday, authorities identified the suspect as Micah Xavier Johnson, who was killed in a standoff with police early Friday morning. Johnson "had no known criminal history or ties to terror groups," according to unnamed source quoted by the Los Angeles Times. The Associated Press reported that Johnson had served in the military and completed a tour in Afghanistan.
The ambush marks the deadliest day for law enforcement in the United States since 9/11.
Police said early Friday morning one suspect had been taken into custody after a shootout with Dallas SWAT officers. Around 1:30 a.m. Eastern, police officials said they had another suspect, later identified as Johnson, cornered in a parking garage: "The suspect that we are negotiating with that has exchanged gunfire over the last 45 minutes has told us that the end is coming and that he is going to hurt us."
Authorities later announced that Johnson had been killed when police detonated a bomb in the parking garage. Dallas Police Chief David Brown said the suspect had told negotiators during the standoff that "he was upset about recent police shootings ... upset at white people. The suspect stated he wanted to kill white people, especially white officers."
Three other suspects were in police custody, including two men who were seen throwing a camouflage bag into a Mercedes and later apprehended by police. Officers said a third suspect, a woman, was captured close to the parking garage where the last known remaining suspect was barricaded. 
The ambush in downtown Dallas sent shockwaves through the city and the rest of the country, still reeling from the two shooting deaths of black men at the hands of police this week.
A Facebook Live broadcast by Michael Kevin Bautista shows the moments that dozens of shots rang out in downtown Dallas. In the graphic video, two police officers appear to be lying on the ground after several dozen shots are fired:
Other videos from those on the scene show police officers and civilians frantically running, while some duck behind a car for cover. Multiple gunshots can be heard in the videos:
The gunfire rang out at the end of rally protesting police violence, which had been peaceful prior to the shooting.
People were gathering to protest racially motivated police brutality after two black men, Alton Sterling and Philando Castile, were both fatally shot by police officers on Tuesday and Wednesday, respectively. Dramatic footage of Sterling and Castile being killed — both of whom were nonviolent at the time of their shooting — galvanized the Black Lives Matter movement into action in cities across the country.
July 8, 2016, 6:53 p.m. Eastern: This story has been updated.
Read more: