Dallas Police Shooting Started as a Peaceful Protest, Not a Black Lives Matter Attack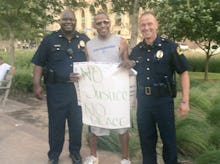 On Thursday night, 12 police officers were shot and five killed after a #BlackLivesMatter protest in Dallas. 2 civilians were also shot.
Read more: 5 Police Officers Shot and Killed by Snipers in Downtown Dallas
Some on the internet are jumping to blame protesters, though the event was well-documented as peaceful in nature. It was so peaceful, in fact, that police officers were posing for smiling photos with protesters.
People tweeting from the #BlackLivesMatter event said the gunfire began as the protest was winding down. 
Unfortunately, people were quick to blame the protesters for the shootings, despite reports that the shooting was carried out by snipers separate from the protest.
"Tonight it appears that two snipers shot 10 police officers from elevated positions during the protest/rally," Dallas Police Chief David Brown said in a statement.
July 8, 2016, 7:53 a.m. Eastern: This story has been updated.
Read more: