Dallas Police Are in a Standoff With One Suspect in Shooting Deaths of 5 Officers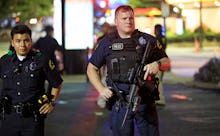 One suspect remains barricaded on the second floor of a parking garage in downtown Dallas and has been exchanging gunfire with law enforcement, hours after an ambush on police during a peaceful protest killed five officers and wounding seven officers.
"The suspect that we are negotiating with, that has exchanged gunfire with us over the last 45 minutes, has told our negotiators that the end is coming, and he is going to hurt and kill more of us, meaning law enforcement," Dallas Police Department Chief David Brown said during a press conference around 1:45 a.m. Eastern on Friday. "And that there are bombs all over the place in this garage and in downtown. So we are being very careful in our tactics so we don't injure our citizens in Dallas as we negotiate further."
Brown confirmed that three other suspects are in custody following the shooting, including at least one woman who was taken into custody in the area of the garage. The other two suspects were spotted leaving the area in a black Mercedes and taken into custody shortly thereafter. 
No explosions have been reported during or after the incident.
Brown said police expected to be working through the early hours of Friday morning to secure the area and capture the remaining suspect.
This is a breaking story and will be updated.
Read more: