Dallas Police Ambush Reaches Bloody End, But Little Known About Shooters or Motive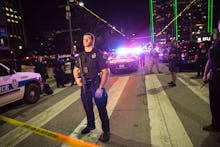 A brazen ambush on Dallas police officers which left at least five officers dead and another six injured resulted in hours of negotiation and gunfire on Friday morning has come to a close.
The shooting, which is the deadliest single-day killing of law enforcement officers since the Sept. 11, 2001 terror attacks, broke out during an entirely peaceful Black Lives Matter protest spurred by the videotaped police killings of Alton Sterling and Philando Castile.
Details about the incident remain murky as of Friday morning, but current reports indicate snipers opened fire on Dallas police officers using rifles, and at least three have been taken into custody. More suspects may be at large.
Dallas Police Department Chief David Brown told reporters on Thursday morning the shooters were "working together with rifles, triangulating at elevated positions in different points in the downtown area where the march ended up going."
One video from the Black Lives Matter protest captured demonstrators scattering as gunfire broke out.
Another widely circulated video from KDFW appeared to depict the moment one of the gunmen flanked and murdered a responding law enforcement officer.
Mayor Mike Rawlings asked Dallas to come together in the wake of the shootings, saying it was a "heartbreaking morning" for the city and "We must come together and lock arms and heal the wounds that we all feel from time to time. Words matter."
As of early Friday morning, the identity, motivation or ideology of those who launched the ambush remain unknown.
Correction: July 8, 2016