Obama on Dallas Police Massacre: "Justice Will Be Done"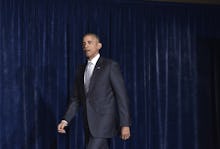 President Barack Obama addressed the deadly police shootings in Dallas early Friday morning, calling it a "vicious, calculated and despicable attack" and vowing "justice will be done."
"I think I speak for every single American when I say we are horrified by these events," said Obama, who spoke from Warsaw, Poland, where he is attending a NATO summit. "
Obama's comments came hours after 12 police officers were shot, and five killed, by snipers during an otherwise peaceful Black Lives Matter protest in Dallas. The massacre marks the deadliest single-day killing of law enforcement officers since 9/11.
The protest was in response to the deaths of two black men who were shot and killed by police officers earlier this week — one in Louisiana and one in Minnesota. Both killings were captured on video in gruesome, harrowing detail.
"Yesterday, I spoke about our need to be concerned as all Americans about racial disparities in our justice system, the vast majority of [police] do their job in outstanding fashion," Obama said. "We need to be supportive of those officers who do their job each and every day protecting us and protecting our community."
"Today is a reminder of the sacrifices they make for us," Obama concluded his remarks, "We also know that when people are armed with powerful weapons, unfortunately, it makes attacks like these more deadly, and in the days ahead we're going to have to consider those realities."
Read more: