Dallas Police Shooting Victims: These Are the Names of the Officers Killed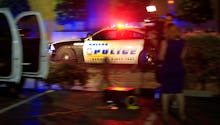 Twelve police officers were shot and five of them killed by snipers near a peaceful protest in Dallas on Thursday night, making it the deadliest day for law enforcement since 9/11.
President Barack Obama called it a "vicious, calculated and despicable attack," and vowed to see that "justice will be done."
The slain officers, gunned down as they monitored the nonviolent demonstrations, served the Dallas Police Department and the Dallas Area Rapid Transit agency. Here are their names.
Brent Thompson, 43
Brent Thompson joined DART in 2009. "Brent was a great officer," DART Chief James D. Spiller told CNN on Friday. "He was an outstanding patrol officer as well as a rail officer."
Thompson had recently wed another DART officer, according to WFAA reporter David Goins. Spiller, who had recently spoken with Thompson, said Thompson had been in "great spirits from his recent marriage."
Prior to joining DART, Thompson worked for DynCorp International as an international police liaison officer in southern Iraq, according to his LinkedIn profile. He was "responsible for the day-to-day operations conducted by our American police officers who trained and mentored the Iraqi Police."
Thompson was the first DART officer killed in the line of duty.
Patrick Zamarripa, 32
Officer Patrick Zamarripa survived three tours in Iraq before joining the Dallas Police Department five years ago, according to the Washington Post. He was a dad to daughter Lyncoln, 2, and a husband to Kristy Villasenor. 
His relatives' social media posts portray Zamarripa as a man who deeply cared for his family.
Zamarripa's father, Rick, told the Post that his son "just liked to help people." Rick Zamarripa said Patrick recently declined a job with the Immigration and Naturalization Service. "No, I want to stay," Zamarripa reportedly said. "I love doing this." 
"Addicted to the thrill of this job," Zamarripa wrote in his Twitter bio. "I own the night."
Michael Krol, 40
Krol was a former Wayne County, Michigan, sheriff's deputy, who also worked in Wayne County jails from 2003 to 2007. "He worked really hard to be a police officer," said Krol's uncle Jim Ehlke, according to ClickOnDetroit.com. "He worked pretty hard to find a job and got one in Dallas. He was all in, he was all in." 
Michael Smith, 55
According to the Dallas Morning News, Sgt. Michael Smith was a longtime veteran of the department whose work in the field earned him a number of honors, including a "Cops' Cop" award. The News noted one incident in which Smith stepped in to protect his partner during an altercation with gang members, leaving him with a laceration that required 31 stitches. 
Lorne Ahrens, 48
A resident of Burleson, Texas, Ahrens was a former semi-pro football player and 14-year veteran of the Dallas Police Department.
"He was a big ol' boy," Charlie Buckingham told the Washington Post of his 6'5", 300-pound son-in-law, Ahrens. "Big as he is, just walking down the street he cut a real figure."
Ahrens had a 10-year-old daughter and an 8-year-old son with his wife Katrina Swyryn-Ahrens.
July 8, 2016, 5:30 p.m.: This story has been updated.
Read more: