'Harry Potter and the Cursed Child': Emma Watson Embraces New Hermione, Noma Dumezweni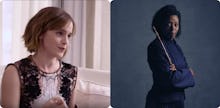 There were no time-turners or any form of wizardry in effect, yet two Hermione Grangers were able to meet Thursday. 
Emma Watson, who played Hermione in the Harry Potter film franchise, caught the new Harry Potter play in London, Harry Potter and the Cursed Child. Backstage, she had a chance to hang out with her onstage counterpart, Noma Dumezweni, and shared a photo of their encounter. 
Afterward, Watson raved about her performance and the play on Facebook.
"I came in with no idea what to expect and it was amazing," Watson wrote. "Some things about the play were, I think, possibly even more beautiful than the films. Having seen it, I felt more connected to Hermione and the stories than I have since Deathly Hallows came out, which was such a gift. Meeting Noma and seeing her on stage was like meeting my older self and have her tell me everything was going to be alright, which as you can imagine was immensely comforting (and emotional)!" 
Dumezweni also took to social media to express her adoration for Watson, noting that it was "quite emotional to be in your company" in a series of tweets. 
Given the initial Twitter backlash from the casting of a non-white Hermione, which J.K. Rowling herself refuted as absurd, it's certainly a welcome sign. Watson herself was supportive of the casting since the first announcement. 
Harry Potter and the Cursed Child, which is currently in previews, will officially open in London on July 30. The script for the play will be released as a book the following day. 
Read more: