Beyoncé Paused a Show to Sing "Freedom" A Cappella Dedicated to Police Brutality Victims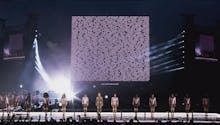 Following the deaths of Alton Sterling and Philando Castile at the hands of police, on Thursday night Beyoncé paid homage to victims of police brutality in the United States by displaying their names on her Formation World Tour during her concert in Glasgow.
A flood light shone on Beyoncé and her dancers as they stood in formation in front of the crowd. Cheers for the chart-topping performer became hushed as the names of countless men and women of color killed by officers appeared on a monolith behind her in bold pink letters. 
The Lemonade singer held a moment of silence, before bringing down the house with an a cappella version of her song "Freedom," captured and recorded by fans in the crowd.
"Tryna rain, tryna rain on the thunder, tell the storm I'm new," she sang, standing in front of the list of names displayed behind her. "I'ma walk, I'ma march on the regular, painting white flags blue."
After singing the final words — "I break chains all by myself, won't let my freedom rot in hell, hey/ I'ma keep running 'cause a winner don't quit on themselves" — the beat kicked back in and the performers came to life. 
Beyoncé's performance comes the same day she penned a response to such violence on her website, calling on her fans to contact their politicians to demand justice and change. "We are sick and tired of the killings of young men and women in our communities," the artist wrote. "It is up to us to take a stand and demand that they 'stop killing us.'"
Read more: