Jay Z Drops "Spiritual" Meditation on Police Brutality, His First New Song in 3 Years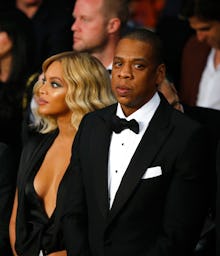 "I made this song a while ago," Jay Z wrote Thursday in a statement paired with his "Spiritual," his first solo effort in since 2013's Magna Carta Holy Grail and his most incisive release in years. He's made it available for everyone to listen to on Tidal here.
The song nods to the deaths of Alton Sterling and Philando Castile, with Jay meditating on the police violence that has rocked our nation. "I am not poison, no I am not poison," Jay raps on the song's hook. "Just a boy from the hood that/ Got my hands in the air/ In despair don't shoot/ I just wanna do good, ah."
He spits substance — fulfilling one of hip-hop's core purposes: to provide a voice for all those disillusioned and still directly in harm's way, something that's felt forgotten in all of his luxury raps. It's good to hear that relevance and talent don't necessarily die with age.
"Punch [label boss of Top Dawg Entertainment, home to Kendrick Lamar and ScHoolboy Q] tole me I should drop it when Mike Brown," Jay adds in the statement, explaining the song's origins. He relates how Punch, MC and president of Top Dawg Entertainment, home to Kendrick Lamar and Schoolboy Q, told him "drop it when Michael Brown died" all the way back in 2014.
"Sadly I told him 'this issue will always be relevant,'" Jay writes. "I'm hurt that I knew his death wouldn't be the last."
This year alone, Philando Castile became the 115th known black man shot and killed by police.
Jay Z's statements come on the heels of a similarly powerful statement by his wife Beyoncé. Thursday night she paused her concert to offer a moment of silence for individuals slain by police violence, singing her song "Freedom" a capella. "We are sick and tired of the killings of young men and women in our communities," she also wrote in a statement. "It is up to us to take a stand and demand that they 'stop killing us.'"
Read more: