Shonda Rhimes Claps Back Against Former Congressman Joe Walsh: "Guns Get People Killed"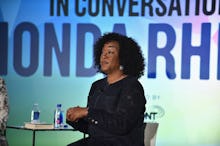 The fatal police shootings of two black men in the span of two days, Alton Sterling and Philando Castille, left television producer and writer Shonda Rhimes too sad to express fury in response on social media. But after five police officers were shot and killed by two snipers during a Black Lives Matter protest in Dallas — and some on social media put blame on the protesters — Rhimes couldn't stay silent.
Specifically, Rhimes responded to former Illinois Congressman Joe Walsh, who said in a now-deleted tweet that President Barack Obama and the "Black Lives Matter punks" need to watch out, because "real America is coming after you." 
Walsh later backtracked on the tweet, saying he wasn't trying to incite violence, even though he explicitly called it a war. Rather, he said he wanted to "defend our cops" because words from Obama and the Black Lives Matter movement have "gotten cops killed." But Rhimes shot back that it's not the dialogue of the Black Lives Matter protesters that are getting people killed. It's guns. 
Sixty-three people have already been killed by mass shootings in 2016, compared to 46 in 2015, according to Time. Meanwhile, Congress has yet to pass even the most basic gun reform changes.
Read more: