The Steubenville Hacker Might Get More Jail Time Than the Rapists He Exposed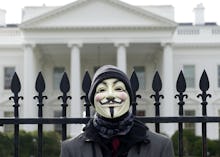 On Thursday, a Kentucky hacker who helped expose and convict two rapists associated with the Steubenville rape case was indicted on four felony counts.
Deric Lostutter, a member of the hacktivist group Anonymous, uncovered social media evidence that led to the conviction of two Steubenville, Ohio, football players, who were accused of raping a 16-year-old girl. If convicted, he could face a maximum penalty of up to 16 years in prison — more jail time than the rapists in the Steubenville case served.
By contrast, convicted Steubenville rapist Ma'lik Richmond was released early after 10 months in a juvenile detention facility. He later returned to playing football with the Steubenville High football team. The second convicted Steubenville rapist, Trent Mays, served a full two years in juvenile detention. He later became the star quarterback at Hocking College in Ohio. 
According to the indictment filed in the Eastern District of Kentucky, Lostutter is accused of threatening the teenage Steubenville rapists and local school officials who helped cover up their crime, referring to one of them as a "child pornographer" with a "rape crew" in one of his YouTube videos. He will be tried under the Computer Fraud and Abuse Act on the grounds that the computer and online accounts he allegedly helped hack were "affecting interstate or foreign commerce or communication." 
Lostutter is being charged for gaining unauthorized access to the high school football team's Facebook fan page and its owner's email address. He is accused of leaking private content, including a video in which football players bragged about raping an unconscious girl, then lying to investigators by denying his involvement in the hack. 
Lostutter was first investigated in 2013 as part of a series of FBI raids on Anonymous members. After he was arrested, Lostutter's ex-girlfriend came forward to accuse Lostutter of sexually assaulting her more than a decade ago, when she was 15 years old. Lostutter retaliated by publishing her full name and her personal information in a Facebook post. (In an email to Mic, Lostutter denied the allegations, claiming they were the actions of an embittered ex.) 
In a private Twitter message, Lostutter told Mic that the indictment has caused him a great deal of stress, particularly because he and his wife are expecting a baby. 
"My lawyer and I are currently reviewing the indictment that aims to give me a maximum of 8 times the time the convicted rapists got," Lostutter said. "I am just trying to live a normal life and start a family. So yes, [the indictment] has increased stress. I want to be there when my baby is born." 
Lostutter is scheduled to appear before a federal judge on August 9. "We live in a world where rapists like John Enochs [the former Indiana University student and accused rapist] get a single day in jail. And activists and whistleblowers can have their whole life turned upside down," Lostutter said.
Read more: