In 2 Words, the 'New York Post' Showed Everyone How Not to Respond to the Dallas Massacre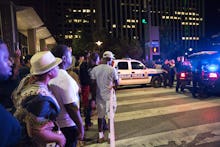 On Thursday night, at least one gunman opened fire on police during a peaceful Black Lives Matter protest in Dallas, leaving at least five officers dead and seven officers and two civilians wounded.
The demonstration was nonviolent — before the violence erupted, police officers posed for photos with protesters. 
When the New York Post released its cover on Friday morning, it was clear the tabloid was approaching the incident from its famously sensationalistic standpoint. Splashed across the front page were the words "CIVIL WAR," and called the demonstration an "anti-police protest."  
The New York Post is not the only news outlet calling Thursday night's incidents "war." Hollywood site the Wrap published a story early Friday morning with the headline "Is This War? When #BlackLivesMatter Veers Into Violence." 
The suspected shooter was not involved with Black Lives Matter. "The suspect said that he was not associated with any groups," Dallas Police Chief David Brown said Friday morning in a press conference.
Read more: