In Wake of the Dallas Shooting, We Can Look to the Nation's Front Pages — Or Beyond them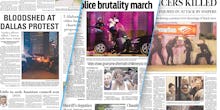 There's a familiar scene unfolding across America's newsstands today. 
Its started in the hours following Thursday night's massacre at a Black Lives Matter protest in Dallas.
Tragedies were immediately inked onto the front pages of nation's our biggest newspapers. 
"Slain." "Bloodshed." "Killed."
But amidst these tragedies, we can choose the story we remember about senseless violence in America.
We can look to the front pages — or look beyond them.
We can fixate on violence — or identify love. 
While each tragedy can showcases the worst of people ...
... it also unearths the best.
Like when Muslims broke their holy fast to donate blood for Orlando, Florida, victims.
Like when these police officers posed in solidarity with these Black Lives Matter protestor.
Like when these two Black Lives Matter activists got married in Ferguson, Missouri.
Like when white people took a stand for black lives.
Our nation's history reflects the stories we tell ourselves. And the stories we read from others. It's up to us to choose them.