Jon Stewart's Words About Police Brutality From 2 Years Ago Are More Resonant Than Ever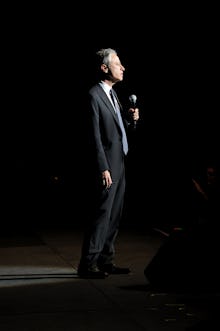 While Jon Stewart is no longer on the airwaves, the messages that resonated with his Daily Show viewers are still prevalent. Following the deaths of five police officers at a Black Lives Matter protest Thursday in Dallas, a quote from a 2014 segment on Stewart's show is making the rounds on social media. 
The piece the quote comes from focused on Stewart's response to a factual error he previously made on his show about a police shooting report. In the piece, he blasted Fox News for focusing on "one factual error that in no way changed the preponderance of the evidence in the piece." 
But it was Stewart's ending remarks on law enforcement that caught the eye of Orange Is the New Black actress Uzo Aduba on the Twitterverse, among others. 
It's another stark reminder of how important Stewart's voice was on late night, especially in light of this year's many instances of mass shootings and racially charged political threats.  
Read more: