This Pokémon Go Player Caught a Pidgey While His Wife Gave Birth Like It Was NBD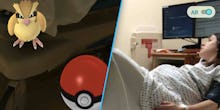 A screenshot from one man's riveting game of Pokémon Go is currently going viral — probably because his wife can be seen casually preparing to birth a human baby in the background.
"When your wife is about to have a baby and a Pokémon shows up and you have to low-key catch it," Reddit user Bringther1ot captioned his photo, which has since accumulated more than a million views on Imgur.
"As soon as it popped up, I was like, oh my gosh, there's a Pidgey sitting on your bed!" Jonathan Theriot — the flip-flop-clad father behind the camera — told BuzzFeed. (Mic has reached out for additional comment and will update if we hear back.) "So, I screenshotted it, then caught it and showed it to her."
Pokémon Go is a new app that allows users to engage with virtual Pokémon characters through the lens of their smartphones, as if in the real world. Theriot's picture has garnered hundreds of enthusiastic responses from other players.
"If she's your wife she should understand how important this Pidgey is," wrote one user. "Priorities," another flatly responded.
Meanwhile, on Reddit, Theriot reported that both his baby and his Pidgey are doing fine.
"Pidgey is male and XL," he wrote. "Baby is a girl and should be regular size."
Read more: