Dallas Police Chief David Brown on Shootings: "The Suspect Said He Did This Alone"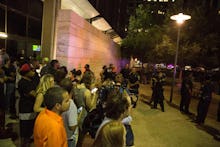 During a peaceful Black Lives Matter protest Thursday night in downtown Dallas, a shooting targeting police officers killed five officers and wounded seven. 
While little information is available about the three suspects taken into custody, Dallas Police Chief David Brown spoke at a press conference Friday, trying to make sense of the motives that drove a fourth suspect who, after negotiations with a hostage negotiator broke down, was eventually killed by an explosive device Dallas police detonated using a bomb-equipped robot.
Brown said the move was meant to protect Dallas officers.
According to Brown, the suspect said he wasn't affiliated with any organizations and that he acted alone.
"The suspect said he was upset about Black Lives Matter," Brown said, relaying the comments a negotiator received from the now-deceased suspect. "He was upset about recent police shootings ... upset at white people. The suspect stated he wanted to kill white people, especially white officers."
The protest was a response to the deaths of two black men at the hands of police: Alton Sterling, who was shot and killed outside a convenience store in Baton Rouge, Louisiana, and Philando Castile, who was shot at killed during a traffic stop in Falcon Heights, Minnesota.
Thursday's events marked the deadliest day for law enforcement since 9/11.
"We're hurting," Brown said. "Our profession is hurting. Dallas officers are hurting. We are heartbroken."
Read more: