Shetamia Taylor's Story From the Dallas Attack Shows Why Blaming Black Protesters Is Wrong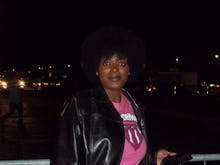 It wasn't just police officers who were hit by sniper fire in Dallas Thursday night. A protester and mother of four was shot too — and her name is Shetamia Taylor.
Taylor, 37, took her sons to the #BlackLivesMatter rally to protest the fatal police shootings of Alton Sterling and Philando Castile earlier this week. When snipers began firing at the crowd, shooting 10 officers and killing five, Taylor reacted by shielding her sons from the gunfire. She was hit by a bullet in the calf.
On Thursday morning, Taylor had shared a meme on Facebook expressing concern for her children's safety amid the latest string of police killings.
"I can't keep calm," it read. "I have a black son."
According to the Associated Press, Theresa Williams, Taylor's sister, also told reporters that the 37-year-old threw herself over her sons immediately when she heard the gunshots. Taylor's sons are all between the ages of 12 and 17. 
Another sister of Taylor, Sherie Williams, added that Taylor took her children to the rally specifically to teach them about peaceful protest.
"A peaceful rally to show them it's OK to stand up for who you are and what you believe in and just a simple message, violence doesn't get you anywhere," Taylor said, according to her sister. "Come together, be peaceful, communicate with one another."
Taylor was one of two civilian victims of the Dallas attack, but the other one has not been identified yet. She underwent surgery early Friday and expected to recover.
Read More:Dallas Police Shooting: Shocking Video Shows the Moment Dozens of Gunshots Rang OutDallas Police Shooting Started as a Peaceful Protest — Not a Black Lives Matter AttackAfter the Dallas Police Shooting Former Congressman Joe Walsh Threatened Obama on Twitter