I'm a Black Journalist From Dallas and My Heart Just Broke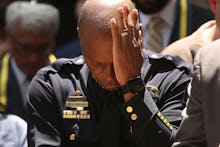 And I'm in denial
Shortly after midnight on Friday, I woke up to a text from my mom back home in Dallas. "Reggie is okay," she said cryptically. Reggie, a long-time friend from my hometown church, became an officer with the Dallas Police Department earlier this year.
Even with her reassurance, my gut told me that things were not OK. I checked Twitter, where I learned that shots had been fired in Dallas at a peaceful protest in response to the killings in Louisiana and Minnesota, leaving five law-enforcement officers dead and seven wounded.
This week has been like none other in my professional career. The trauma of waking up to three horrific acts of violence, three days in a row, in three different places has been dislocating and gut-wrenching in ways that I still don't understand, and have trouble expressing. I am angry, I am devastated, and even as I write this through tears, I still struggle to find the right words.
I and other journalists of color commit to covering racial and social justice issues because these are our people. When a neighborhood watchman killed Trayvon Martin, it could have too easily been my brother, who loved Skittles and worked at Hollister in a mall in North Dallas, and wore hoodies just like him. When Dylann Roof killed nine members of Emanuel African Methodist Episcopal Church in Charleston, South Carolina, a historic black church in the South, it could have too easily been my 152-year-old church in Dallas, where I spent countless Wednesday nights with our drill team. The bloodied victims on newspaper front pages, the harrowing footage of defenseless black men being gunned down — these are our aunts, our uncles, our brothers. When I see the victims of police brutality memorialized in hashtags like #SandraBland, I am reminded that it could just as easily be my name serving as a rallying cry on social media.
Journalism offers a sense of purpose in the face of senseless killing, the opportunity to speak truth to power for those who can't do it themselves.
Nothing seemed quite right — everything was too cheap, too boilerplate, too small for the impact that these deaths have on every person who values black life.
But the most recent attack was, quite literally, at home. In fifth grade, I visited the Sixth Floor Museum, standing in the window where a sniper assassinated President John F. Kennedy. The site where the president was shot, Dealey Plaza, is only a few blocks away from where protesters gathered Thursday night. It's where, just last month on a visit home, I stood and remembered it as the spot where Erykah Badu told her own "butt-naked truth" about America in her music video for "Window Seat."
On Wednesday and Thursday, I opened Twitter and Facebook countless times to pen a heartfelt message about the killings of Alton Sterling and Philando Castile. Several times, I wrote a few words and quickly deleted them. Nothing seemed quite right — everything was too cheap, too boilerplate, too small for the impact that these deaths are having on not only the victims' families, but also on every person who values black life.
But on Friday morning, I realized my silence was slowly killing me. That purpose — the flame that burns inside me in memory of Michael Brown, Tamir Rice, Sandra Bland, Aiyana Stanley-Jones, the Charleston Nine and too damn many more black lives — had turned to a blazing fire.
I want to tell a good number of people to keep their mouths shut. Joe Walsh quickly made up his mind about who was behind the Dallas shooting, saying that Black Lives Matter activists had started a war against the "real America." Texas lawmaker Roger Williams added the president is contributing to the "modern day hostility we are witnessing between the police and those they serve." And random racists are comparing the Black Lives Matter movement to Nazis and terrorists.
Law enforcement and the media need to do their jobs better. Dallas police initially got the story wrong, naming Dallas resident Mark Hughes as a suspect. TV networks ran with that version of the story, flashing his picture on news channels from coast to coast. "My brother easily could have been killed because somebody that was irresponsible identified him as a suspect, not as a person of interest, but a suspect," Cory Hughes, Mark's brother and a protest organizer, told CBS 11. "I wanted to protect my brother because the first thing I could think about is them seeing him and not asking questions but shooting first." 
But I need to find ways to move forward, too. Black people live in fear every day — trapped in a world where we can be killed for selling cigarettes and CDs, for making eye contact and driving with a broken taillight. The Black Lives Matter protesters who gathered in Dallas on Thursday night were standing up in spite of that fear to spread the message that black people deserve freedom and safety. These same voices have spoken out against the violence against police, which is the same vigilantism that the Black Lives Matter movement has consistently condemned.
Usually at times like this, I feel speechless, helpless and like justice is miles and miles away. But the voices of compassion in the chaos give me hope. Hope that freedom and liberation is just a little bit closer. At least for now, I can say that my voice is free of chains. And there is no place like home for me to finally send that message.
Read more: