In the Wake of the Dallas Police Shooting, Here Are 6 Ways to Help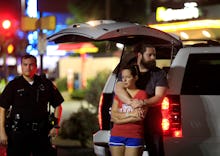 A once-peaceful Black Lives Matter protest in Dallas Thursday night erupted into chaos and violence when at least one sniper opened fire, killing five police officers and injuring seven additional police officers and two civilians. 
President Barack Obama characterized the shooting as "violence to law enforcement" Friday morning. The attack is the deadliest day for law enforcement since Sept. 11, according to the National Law Enforcement Officers Memorial Fund, and it's left the country — already shaken from the police-involved deaths of Alton Sterling and Philando Castile — reeling. 
In the wake of the tragedy, here's what you can do to help:
1. Donate to the Assist the Officer Foundation
In the aftermath of the shooting, the Dallas Police Association tweeted that the Assist the Officer Foundation has set up a donation page specifically for the Dallas officers' families.
2. Donate to the Russ Martin Show Listeners Foundation
Texas-based radio show the Russ Martin Show has a foundation that writes emergency checks to the next-of-kin of firefighters or officers who die in the line of duty. According to a Reddit post by a member of the radio show, over 99% of the donated funds are given to the families.
"In the coming days we will be writing checks to the families of these officers," the Reddit thread said. "However, we need your help. Our foundation has the funds to cover these checks, but if tonight gets any worse, we will be in trouble."
3. Donate to Guns & Hoses Foundation of North Texas
The Guns & Hoses Foundation of North Texas is a nonprofit organization that gives financial support to the loved ones of first responders who have died. The group has opened a benevolence fund for the Dallas officers' families.
4. Submit any information or tips
If you have any information regarding the shooting, the Dallas Police Department is accepting tips. You can reach the department by calling 214-671-3485 or by submitting tips online.
5. Donate blood to Carter BloodCare
While Carter BloodCare, a group that provides blood for Texan health care facilities, said on Twitter that it had enough at the time of need, the organization sent out another tweet Friday morning asking for donations to restock. This page outlines the donation process.
6. Donate to the American Red Cross 
After the attack, the Red Cross disaster team rushed to the scene. This page explains how to donate over text message, online, by phone or by mail.
Read more: