Donald Trump's Statement on the Dallas Police Shooting Sounds Nothing Like Donald Trump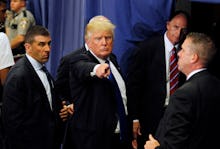 There were no exclamation points, no self-congratulations and no ominous calls to "take our country back."
Instead, Donald Trump uncharacteristically called for "love and compassion" following the Dallas police shootings in a statement that sounded nothing like the Donald Trump we've seen on the campaign trail for over a year.
"Our nation has become too divided. Too many Americans feel like they've lost hope. Crime is harming too many citizens. Racial tensions have gotten worse, not better. This isn't the American Dream we all want for our children," Trump said. "This is a time, perhaps more than ever, for strong leadership, love and compassion. We will pull through these tragedies."
Trump even mentioned the two black men who were shot and killed by police officers in Louisiana and Minnesota earlier this week.
Though he didn't mention the names of Alton Sterling or Philando Castile, he called their murders "senseless" and "tragic" and said their deaths were a reminder that "much more needs to be done."
The statement comes after the presumptive Republican presidential nominee hired political professionals to help run his campaign, including former Ted Cruz adviser Jason Miller to guide Trump's communications team.
And it appears Miller has had an impact.
The statement was a marked change of tone from Trump's response to the shooting at an LGBT nightclub in Orlando, Florida, last month, where 49 people were shot and killed.
After that attack, which was carried out by a man who pledged allegiance to the Islamic State, Trump tweeted that he "appreciated the congrats" about predicting that terrorists would again attack Americans.
Following the terrorist attack in Brussels, Belgium, in March, instead of issuing words of comfort, Trump doubled down on his call to ban Muslims from immigrating to the United States and predicted that terrorism "will get worse and worse."
And after the shootings in San Bernardino, California, in December, Trump said the killing of 14 people by a couple who had also pledged allegiance to ISIS could have been prevented if the victims all had guns.
"I think it would've been a lot better if they had guns in that room, somebody could protect," Trump said at the time. "They could've protected themselves if they had guns."
In light of Trump's past statements, many on Twitter expressed surprise at Trump's initial restraint.
Others, however, said the restraint could be short-lived.