Jennifer Lopez and Lin-Manuel Miranda Drop Orlando Tribute "Love Make the World Go Round"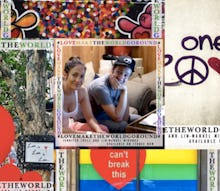 Jennifer Lopez and Lin-Manuel Miranda joined forces across pop and Broadway to cut a prideful club anthem dedicated to the victims of the Pulse gay nightclub massacre in Orlando, Florida. 
Titled "Love Make the World Go Round" the song features lines from Miranda's now famous Tony's acceptance speech sonnet, "Love is love, is love, is love," alongside other lyrics urging listeners to open their minds and hearts to one another in the wake of this tragedy. 
The song's proceeds will benefit the Hispanic Federation's Proyecto Somos Orlando, which has promised to supply case management, crisis intervention and "long-term needs for mental health services that are culturally competent and bilingual" to the victims and families impacted by the Orlando shooting.  
"The song exists to put more love in the world," Miranda tweeted Friday morning. "Raise money for those affected by Orlando. And you can dance to it." The song's lyrics speak to an unwavering support the two share for LGBTQ people's rights and safety.
"A generation of innovators unable to patiently wait for change/ Cause change is what they've been afraid of/ Their malevolence can wait, raise the level of debate," Miranda raps, nodding to hip-hop's ever-malevolent "they."
Lopez provides a personal and invigorating counterpoint: "I'm wide awake, ready to create," she sings. "Everything I've imagined/ Hearts, without any hate/ Crying for change, causing a chain reaction."
Listen to a preview of "Love Make the World Go Round" and purchase the song as a donation through iTunes here. 
Read more: