Joe Walsh's Threat to Obama and Black Lives Matter Got Him a Follow From Donald Trump Jr.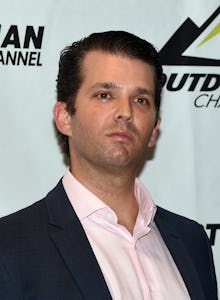 When Joe Walsh, one-term Illinois congressman turned racial-slur-spewing radio host, took to Twitter to react to the police shooting in Dallas Thursday night, he'd apparently made up his mind about who was responsible: Black Lives Matter — a group that was protesting peacefully in response to the shooting deaths of Alton Sterling and Philando Castile — and President Obama.
"This is now war," he wrote. "Watch out Obama. Watch out black lives matter punks. Real America is coming after you."
Walsh was entirely wrong. Black Lives Matter and Obama were unaffiliated with the shooting. According to Dallas police chief David Brown, as reported by NBC News, the shooting suspect "stated that he was not affiliated with any groups, and he stated that he did this alone."
Walsh was widely excoriated on Twitter for proposing, essentially, that white Americans rise up in a race war against Black Lives Matter and America's first black president. He later deleted the tweet.
Walsh did, however, gain one key endorsement: that of Donald Trump's son, Donald Trump Jr., who followed Walsh...
...and retweeted his (unreliably sourced) anti-Black Lives Matter invective.
Oddly enough, even though Walsh now knows the suspect acted alone and was not affiliated with "any groups," he is still blaming Obama and Black Lives Matter:
Good to know all it takes to get a follow from the son of the presumptive Republican presidential nominee is to threaten the president and tweet thinly veiled racial threats at people of color.
Read more: