John Legend Spoke the Truth About Black Lives Matter in the Wake of Dallas Shooting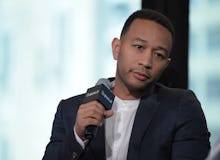 Activist and artist John Legend has taken to Twitter to denounce the violence that turned a peaceful Black Lives Matter protest in Dallas into a bloodbath. People had protesting the the deaths of Alton Sterling and Philando Castile and other black people who have died at the hands of police, when sniper shots took the lives of five officers. 
The singer defended his unwavering support of the Black Lives Matter movement Friday morning, lashing out against a scathing tweet former Congressman Joe Walsh wrote, blaming President Barack Obama and BLM for the violence. In his response, Legend proves that being horrified by the killings of black men and the killing of police officers are not two mutually exclusive things. 
"3 Dallas cops killed, 7 wounded. This is now war," Walsh wrote in a since-deleted tweet. "Watch out Obama. Watch out black lives matter punks. Real America is coming after you." 
The former congressman has since stated he was not trying to incite violence, though it hardly diminished the onslaught of criticism, including Legend's. 
"When you believe 'Real America' does not include the President of America, you might be a racist," Legend bluntly wrote, adding: "Oh and Black Lives Matter activists are Real Americans too. Our ancestors more than paid for the right."
As Legend noted Thursday night, Black Lives Matter protesters were not in Dallas to kill police officers, but rather to effect genuine change in their communities with the help of those sworn to protect and serve. 
"These Dallas shootings are horrific," Legend initially tweeted in response to the news. "Killing these officers is morally reprehensible and completely counterproductive to keeping us safe."
The attack on Dallas came as a tremendous aftershock after the deaths of Alton Sterling and Philando Castile, video from both shootings have made world headlines. Legend is just one of many voice becoming wary of the cycle, as he tweeted in response Thursday. 
Read more: