This One Tweet Might've Cost Chipotle $300 Million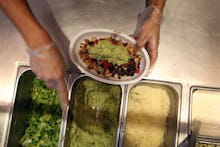 The pen might be mightier than the sword, but a tweet is more powerful than them both. 
Chipotle, the slingers of giant (and caloric) burritos and bowls, has worked hard to recover from the disastrous E. coli outbreak that rocked the chain, and its stock prices. The chain did everything from offering up free food, to adding a new protein to the menu, to creating a rewards program to lure back customers and stabilize its stock. While it seemed that business was finally getting back to normal for Chipotle, one tweet appears to have cost the company a cool $300 million. 
Best-selling author Eric Van Lustbader (who has worked on a number of Jason Bourne novels) tweeted out on Thursday morning that his editor became quite ill after eating at a New York City Chipotle on Wednesday night and ended up in urgent care, the New York Post reported. 
"This Chipotle thing is still ongoing." Lustbader's tweet reads. "My editor ended up in urgent care after being deathly ill all night from eating at Chipotle's." While Lustbader doesn't have a terribly large Twitter following — he has just under 3,800 followers — his tweet has been noticed. 
The tweet "apparently spooked some investors," the Post reported, and Chipotle's stock prices dropped dramatically by 2.6% (and as much as 3.4% at one point, reported CNBC) down to $390.78, and cut about $300 million from the chain's market capitalization. 
While some have criticized Lustbader for not thinking about how his tweets might have impacted the chain, he fired back saying that he is "not interested in the [company's stock]." 
It's possible this was a one-off situation: A Chipotle spokesperson told CNBC that the chain is "aware of the post made on Twitter, however there have been no reports of illnesses at any of our New York restaurants." 
Read More: