What You Need to Know About Jeff Sessions, Donald Trump's Potential Running Mate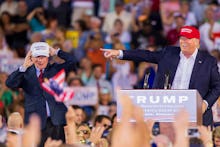 He was the first member of the Senate to endorse Donald Trump's presidential campaign.
Now, Sen. Jeff Sessions of Alabama finds himself among the list of politicians Trump is considering as a potential vice presidential running mate.
Here's what you should know about Sessions.
Who is Jeff Sessions?
Sessions has served in the Senate since 1997, and his tenure has been defined by staunch opposition to immigration and abortion rights.
A lawyer by trade, Sessions served as Alabama's attorney general for two years.
In 1986, President Ronald Reagan nominated Sessions — then the U.S. Attorney for the Southern District of Alabama — to be a judge on that same court.
But the Senate Judiciary Committee killed his nomination, after a black colleague testified that Sessions had made racist remarks, including calling the National Association for the Advancement of Colored People "un-American" and "Communist-inspired."
Why would Trump pick Sessions?
If Trump is looking for a running mate who will defend his immigration policies — one of the cornerstones of his campaign — Sessions would be a good fit.
Like Trump, Sessions supports a wall along the U.S.-Mexico border and opposes a pathway to citizenship for undocumented immigrants.
Sessions has also been a steadfast defender of the presumptive nominee, going as far as attacking his fellow Senate colleagues who are still reluctant to back Trump's campaign. Trump could reward Sessions for that with a spot on the ticket.
What are Sessions' downsides?
With Trump facing allegations of racism after his comments on Judge Gonzalo Curiel, Sessions would not be the best pick to shake that image.
Sessions' history would only add fuel to the Trump racism allegations fire.
And as a white man from the South, Sessions is unlikely to help Trump win over Rust Belt Democrats, whom Trump hopes can help him shift the presidential map in his favor.
How likely is Trump to pick Sessions?
As an early endorser of Trump's campaign, Sessions could be rewarded for his loyalty.
But Sessions provides little upside for Trump, given his past comments and geographic location, making it unlikely he'll be Trump's ultimate pick.
Read More: