Dallas Police Shooting Sparked a Wave of Terrifying Facebook and Periscope Videos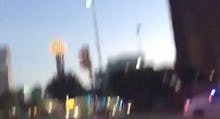 On Thursday night in Dallas, a nonviolent Black Lives Matter rally was ambushed by at least one sniper, who opened fire from an elevated position. Fourteen people were shot. The attack left two civilians wounded, seven police officers wounded and five police officers dead.
The rally was a reaction to the police killings of two black men, Alton Sterling and Philando Castile, earlier this week. During the initially peaceful gathering, police officers and protesters were taking photos together. 
On Friday, police said that one suspect, identified as Micah Johnson, said he "wanted to kill officers ... white officers" but that he did it alone and was "not affiliated with any groups." 
When the shooting broke out at about 8:45 p.m. Central, the scene was chaotic. People on the ground captured footage of officers ducking behind cars and people rapidly running to safety. Some took the opportunity to capture video of what has become the deadliest day for law enforcement since 9/11.
Below are some candid videos of Thursday's attack:
Facebook user Michael Kevin Bautista was at the protests when the gunfire started. He caught the moments on Facebook Live. "Holy shit," he can be heard saying. "Don't worry I'm behind a tree," he said later. By the end of the video, he's seen squatting behind a police car. 
In another Facebook video, gunshots and sirens can be heard. "This is not how this was supposed to be," a woman can be heard saying.
News teams that were covering the protest at the time of the shooting got a clear survey of the scene. Camera footage showed people scrambling out of the area towards safety and authorities telling people to leave the area.
Residents who lived in buildings around the area got a bird's-eye-view of the scene, which showed countless police cars in the area.
Read more: