While Dallas Police Shooting Terrorized a City, These Photos Show How People Came Together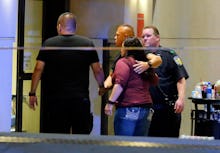 Towards the end of a peaceful Black Lives Matter protest in Dallas on Thursday night, at least one suspect identified as Micah Johnson opened fire on police officers, killing five and wounding seven. 
Johnson was "upset about Black Lives Matter," according to Dallas Police Chief David Brown — the massacre came the same week as the deaths of two black men, Alton Sterling and Philando Castile, who were fatally shot by police, were video taped and circulated on social media. 
But amidst the divisiveness and violence, images of Thursday night have emerged of people coming together, rather than allowing themselves to be fractured by recent events. 
Here are some of the most striking images from the event and its aftermath:
Johnson, the suspect, was killed by an explosive-wielding police robot after a standoff, which lasted throughout the night. 
Much of the ensuing discourse in the wake of the police shooting has put Black Lives Matter and law enforcement at odds with each other. However, as Mic's Jamilah King wrote, supporting racial equality and police officers are not mutually exclusive. 
"[There is] a common misperception about the movement for black lives ... that it's a movement born out of anger or retribution. It's not," King writes. "What it is, quite simply, is a movement molded by the belief that black people should be able to live their full lives without being summarily executed by the police forces that are ostensibly paid to protect them."
Read more: