Young Thug Used His Calvin Klein Campaign Video to Say "There's No Such Thing As Gender"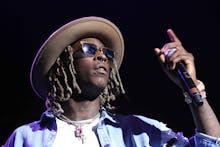 Rapper Young Thug appeared in a new video to promote Calvin Klein's Fall campaign and in the 20-second clip, released earlier this week, the artist made a powerful statement about the nature of gender and fashion.
"In my world of course it don't matter. You could be a gangster with a dress or you could be a gangster with baggy pants," Young Thug says in the video. "I feel like there's no such thing as gender." Young Thug hasn't been afraid to break down gendered conventions about who should wear what — he's been open about wearing clothes designed for women, including dresses.
In a 2015 interview with GQ, Young Thug explained that he prefers wearing women's clothes "because women's clothes are [slimmer] than men's clothes," and said "the jeans I got on right now, they're women's jeans. But they fit how they're supposed to fit. Like a rock star. The only thing I probably have in men's is, like, briefs. T-shirts. Ninety percent of my clothes are women's."
But, as some have pointed out, Young Thug may be less of a trailblazer and more of a torch bearer in a longer tradition of black male artists, like Prince, pushing boundaries of gender and fashion. 
Young Thug isn't alone in carrying on that tradition: Teen celeb and budding fashion icon Jaden Smith has been rocking a gender-fluid style for a while now, and Smith has spoken out about the importance of normalizing skirts and dresses on men.
But in his Calvin Klein spot, Young Thug doesn't just say that gender doesn't matter — he says it doesn't even exist — which sends a powerful message that there's hope for a world in which anyone can wear whatever they want.
Read more: