Anti-Trend: The Unexpected Power of Ignoring the Latest Fads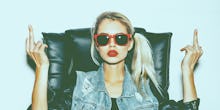 Everybody has that one friend that refuses to give in to the latest fashion trends — and if you don't, chances are you are that friend. It can happen in big ways or in small ways like refusing to shop at fast fashion powerhouses like H&M and Forever 21, or calling out and ignoring current trends for what they are: quick glimpses of someone else's life touted from "influencers" like Kylie Jenner.
But, what if there were more to an anti-trend point of view that actually does some good for those caught up in that great big conveyer belt of fabric that is high fashion? It's possible.
In today's media-saturated world, celebrities are influencing people a lot more with a lot less effort with nothing more than a photo and semi-natural pose. Gone are the days where we looked at magazines like GQ or Esquire for the newest style tips, now all we have to do is open up Instagram or Snapchat and buy a $1,000 pair of shoes that look like they were dug out of a garbage can. We have actors, models, and "influencers" telling their audience that what they're wearing is "in," thus making that particular pair of shoes or pants a hot item. 
However, influencers are doing more than just, and often sneakily, hawking brands. By cutting out past tastemakers from the equation, celebrities can now take a direct-to-consumer approach, positioning themselves as both the trend maker and trend perpetuator. The downside is they're bypassing that crucial step that helps discern which trend actually deserves attention.
You've got Kylie Jenner's cosmetics, Beyonce's Ivy Park, and Yeezy. Despite the fact that the transparence of our beloved celebrities' irreverence towards the product is palpable, the power of their influence works. In fact, a recent study concluded that 92% of people look to other sources or people they know for consumer advice. You look to your friends, they look to their friends, and those friends look to people like Scott fucking Disick. 
How can we put a stop to this? The answer may be in the anti-trend, according to Dr. Rachel Lifter, an Assistant Professor of Fashion Studies at Parsons School of Design and review editor for The International Journal of Fashion Studies. Lifter begins by commenting on the issue at hand and saying there's far more that meets the eye to your purchases. 
"What were the working conditions like for the people making a garment? Were these workers compensated fairly for their labor? What natural resources were used (up) in the process of making the garment? What is the carbon footprint of the garment? And — something that consumers have the most control over — how is the garment disposed of once it goes out of style?"
For Dr. Lifter, the issue of unsafe working conditions and fashion obsolescence is far from a new topic. Does that mean that vehement anti-trenders are right to give their friends hell when they come home with a bag full of Sri Lankan-made pants from H&M? The New York Times praised the act of choosy purchasing and buying American as an easy way to "reduce our trade deficit, support a higher tax base and achieve greater economic growth." If it sounds harder than it should be, consider Dr. Lifter's words of wisdom for shopping smart:
"I do think there are ways of participating in trends in a more ethical and sustainable fashion. For example, there are second-hand stores that trade in popular fashion. Brooklyn's Beacon's Closet is a great example; clothes are sourced through buy or trade-ins, and staff members are trained to identify and purchase garments that resonate with the aesthetic and desires of contemporary popular fashion consumers. The fact that the company offers healthcare to full-time employees is also pretty rad." 
If you don't want to risk bedbugs with second-hand products, try a company like TOMS or Warby Parker, who gives a monthly donation to their nonprofit that trains men and women in developing countries to give basic eye exams and sell glasses to their communities at affordable prices. Chances are, their production spaces aren't equipped with suicide nets. 
What might hit home for some people even more than saving small businesses is the idea of thinking for yourself — e.g. not being a brainless sheep-person who buys into the incoherent rambling of celebrities and pseudo-celebrities for the sole purpose of looking cool on Instagram. Ask yourself: why are you listening to the advice of Kylie Jenner? This is a teenager who regularly puts her hair into cornrows and thought she started wigs. Kylie, you don't even go here.
Thinking about what you buy and making your own style is a great way to make a statement about yourself and the world without sacrificing your soul or shoving money in the hands of guys like Dov Charney. It goes without saying that not every single celebrity-endorsed product is outrageously overpriced or covered in proverbial blood, but one should always keep in mind that listening to the advice of a celebrity who was born in the late nineties. 
So, next time your friend — clad in thrift store Levi's — gives you crap for taking that terribly trite, expressionless selfie with your smoothie bowl as you wear dark lipstick and a scarf made in the darkest corners of Sri Lanka, bite your tongue and listen.