What You Need To Know About Elizabeth Warren, Hillary Clinton's Potential Running Mate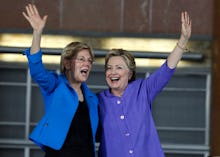 Progressives wary of presumptive Democratic presidential nominee Hillary Clinton are rooting for Clinton to pick Sen. Elizabeth Warren as her vice presidential running mate.
Warren, who remained neutral in the primary, endorsed Clinton after she clinched the nomination.
Shortly thereafter, she emerged as as a potential vice presidential pick.
Clinton's campaign confirmed that Warren is being vetted for the role, and the two even met privately at Clinton's Washington home, stoking the veepstakes intrigue.
Here's what to know about one of Clinton's potential running mates.
Who is Elizabeth Warren?
Warren became the first woman ever elected to the Senate from Massachusetts in 2012, when she defeated now former-Sen. Scott Brown in one of the most high-profile Senate contests that year.
Since entering the Senate, Warren has been a champion for progressive causes, especially regarding banking regulation and taxes.
Prior to her tenure in the Senate, Warren was a law professor specializing in bankruptcy at a number of universities, including two Ivy League schools: the University of Pennsylvania Law School and Harvard Law School.
Warren also helped lead to the formation of the Consumer Financial Protection Bureau, an oversight agency created by the Dodd-Frank Wall Street reform bill following the 2008 financial crisis.
Despite being a darling of the progressive movement, Warren is not a lifelong Democrat. She was a member of the Republican Party until 1996.
Why would Clinton pick Warren?
Following a competitive Democratic primary, having Warren on the ticket could help Clinton woo some of the ultra-liberal Sanders supporters who view Clinton as not progressive enough.
Warren has also proved herself to be an effective attack dog against Trump — a key trait for whomever Clinton picks for her ticket.
What are Warren's downsides?
While Warren has come out as a forceful ally to Clinton, the two have had a contentious relationship in the past.
Warren criticized Clinton for a 2001 vote on a bankruptcy law in a book Warren published in 2003. It was a criticism the Sanders campaign jumped on in the primary.
And while Warren would be a darling of progressives, she may be a turn-off to moderate and independent voters who may decide the ultimate winner of the presidential race.
Similarly, as historic as an all-female presidential ticket would be, it could also be a risky move for Clinton, who is running in a country that's never elected a woman president.
How likely is Clinton to pick Warren?
Since Clinton clinched the nomination in early June, more and more Sanders supporters have moved to Clinton's camp, according to numerous polls.
Clinton now leads Trump by a nearly five-point margin, according to the RealClearPolitics polling average.
That means Clinton might not have to take a risk with her VP pick, which decreases the likelihood of a Clinton-Warren ticket.
Read More: