Miguel Asks in New Song "How Many" More Black Lives Must Be Lost Until We See Change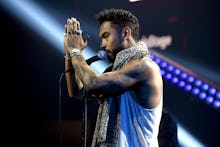 Apparently unable to sleep, Miguel spent the early hours of his Friday morning in a London hotel room, and what he produced brings awareness to the routinely unjustified killings of black lives. He shared the result — a candid, heart-wrenching track titled "How Many" — to SoundCloud, promising to update it "every week until it's complete."
"I cannot sleep, I cannot rest, I cannot dream, I cannot stay silent, I feel the violence in myself," he speaks over psychedelic strings in the song's intro. The chorus repeats the questions, "How many black lives? How many heartbeats turned into flat lines? How many black lives, how many black lives does it take to wake a change?"
Miguel has been active all week on social media following the deaths of Alton Sterling and Philando Castile. He posted multiple videos to Instagram on Wednesday of himself singing Marvin Gaye's "What's Going on" and "Candles in the Sun."
"Mother, mother, there's too many of you crying," he sings in one video. "Brother, brother, brother, there's far too many of you dying," he continues in another.
"They say we're all created equal, shit, that's what they teach us, but that ain't how we treat each other," his sings in a third video from "Candles in the Sun."
Both "How Many" and "Candles" add to this tradition of healing music, for which Gaye's 1971 song serves as a cornerstone. They're all calls-to-action for listeners to rethink the violence that continually plagues divided communities at home and abroad. Their lyrical similarities are haunting, and they bring about the question: How many songs begging for change will we hear before we actually see it?
Read more: