10 States Sue Federal Government Over Trans Bathroom Policy In Schools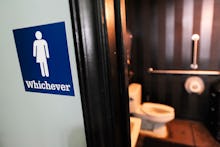 The Associated Press reported Friday that 10 states will sue the federal government over a rule that allows transgender students to use the bathroom and locker room that aligns with their gender identity. 
Arkansas, Kansas, Michigan, Montana, Nebraska, North Dakota, Ohio, South Carolina, South Dakota and Wyoming are all fighting the federal ruling, essentially hoping to secure the right to make students use the bathroom that matches the gender they were assigned at birth.
In a release, Nebraska Attorney General Doug Peterson reportedly said that the "U.S. Education Department and Justice Department have circumvented established law and the process for changing existing laws."
In May, the White House issued a declaration, signed by Education and Justice Department officials, mandating that public schools allow transgender students to use the bathrooms that align with their gender identity. If schools did not comply, they faced losing federal funding, among other potential fallout.
"No student should ever have to go through the experience of feeling unwelcome at school or on a college campus," Secretary of Education John B. King Jr. said in a statement, as reported by the New York Times. "We must ensure that our young people know that whoever they are or wherever they come from, they have the opportunity to get a great education in an environment free from discrimination, harassment and violence."
Back in May, 11 states, Texas, Alabama, Wisconsin, Tennessee, Arizona, Maine, Oklahoma, Louisiana, Utah, Georgia and West Virginia, filed a lawsuit against the Obama administration over the declaration.
Correction: July 8, 2016
Read more: