The Dallas Attack Was a Horrible Tragedy. That Still Doesn't Mean There's a "War on Cops."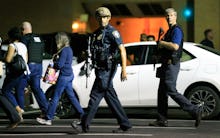 Five police officers were killed and seven others wounded during a sniper attack at an anti-police violence rally in downtown Dallas Thursday night. The shooting — which came during a peaceful protest and was carried out by a man not affiliated with the Black Lives Matter organization — was a tragedy of massive proportions.
That still doesn't mean there's a "war on cops."
You'd be forgiven for not realizing this. Over the past 24 hours, conservative commentators have worked hard to lay blame for Thursday's shooting on a large-scale campaign of violence against United States police.
"This is what happens when the media and our leaders validate and embolden those that want to wage a war on cops," the Blaze's Tomi Lahren tweeted.
"Obama's response to Dallas should be: 'America, respect our police,'" noted racist and former Congressman Joe Walsh tweeted. "'They keep us safe. Don't ever resist arrest. Stop this war on our cops.'"
These pundits have blamed everyone from President Barack Obama to the movement for black lives for inflaming anti-police sentiment and promoting violence against officers across the U.S. There's just one problem at the root of their outrage: Their claims don't align with the facts.
According to a Washington Post story published in December citing data from the National Law Enforcement Officers Memorial Fund, 2015 saw the second lowest number of police officers killed in gun-related violence since 1960. 2016 is on pace to produce similar numbers: Where 42 officers were shot and killed on duty in 2015, the Dallas attack brings this year's tally up to 23, according to the memorial fund — which, at halfway through the year, is slightly over half of the 2015 total.
This news comes less than two years after the killing of Michael Brown in Ferguson, Missouri, sparked nationwide protests against police violence — a period of historically low officer fatalities during which the term "war on cops" was originally coined. Simply put, the terrible events of Thursday night do not reflect any broader statistical pattern. They are an anomaly — albeit an incredibly sad one.
This does not mean we shouldn't mourn the five officers who died. Brent Thompson, Patrick Zamarripa, Michael Krol and Michael Smith were all beloved by their friends, families and communities (at time of publishing, the fifth officer's name had not been released). Their deaths are devastating by all accounts — including to members of Black Lives Matter and their supporters. We do ourselves no favors by attributing these killings to rhetorical fantasies spewed by conservatives who don't care about facts.
Read more: