What You Need to Know About Tim Kaine, Hillary Clinton's Potential Running Mate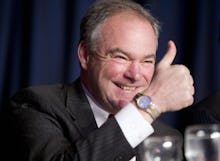 He was one of the earliest elected officials to endorse Barack Obama over Hillary Clinton in 2008.
But in 2016, Sen. Tim Kaine of Virginia is now a top contender to be Clinton's vice presidential running mate.
Here's what to know about him.
Who is Tim Kaine?
Kaine won his Senate seat in 2012, defeating Republican George Allen in a competitive race.
Prior to his tenure in the Senate, Kaine served as governor of Virginia — a position he won in 2005.
Kaine is also a former chair of the Democratic National Committee, where he served from 2009 until 2011.
Kaine has also served as Virginia's lieutenant governor, and as the mayor of Richmond — Virginia's capital and one of the most populous cities in the state.
This year doesn't mark the first time Kaine has been considered for vice president: In 2008, Obama weighed Kaine as a potential running mate, before ultimately choosing now-Vice President Joe Biden.
Why would Clinton pick Kaine?
Kaine is viewed as a steady hand who could withstand the bright lights of a presidential campaign.
He's been tested on a national stage thanks to his time at the DNC.
And he's survived two competitive statewide elections in Virginia, where he remains a popular figure. His popularity there could be a boost to Clinton's chances at winning the state, which would be key to denying Donald Trump the presidency.
What are Kaine's downsides?
As a white male with a relatively low profile on the national stage, Kaine is seen as a safe pick — rather than one that would excite Democrats to rally around Clinton.
And as a Catholic, Kaine also has a complicated relationship with abortion.
Kaine has said he is personally against abortion, but supports a keeping the procedure legal and does not support laws restricting it.
Still, that position could be a problem for Clinton, a staunch supporter of abortion rights.
How likely is Clinton to pick Kaine?
Kaine's stock has risen since Clinton clinched the nomination in early June.
Clinton has maintained a steady, single-digit lead over Trump since vanquishing Sen. Bernie Sanders for the Democratic nomination — potentially obviating the need for a progressive base-pleaser like Elizabeth Warren.
That may well give Clinton the option to go with a safe pick like Kaine.
Read more: