Aubrey Plaza's Laid-Back Coming Out Was Chill as Hell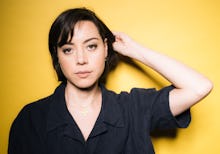 Over the course of basically the past couple weeks, Aubrey Plaza came out to the world as not straight — and she did it with a total absence of fanfare and drama. During a recent appearance on Andy Cohen's Bravo celebrity-dish show Watch What Happens Live, Plaza's answer to the bizarrely phrased inquiry, "Have you ever dipped into the lady pond?" was a simple, "Yes."
Then, in an interview with the Advocate on Thursday, Plaza was asked whether women come onto her. Plaza's reply: "I know I have an androgynous thing going on, and there's something masculine about my energy. Girls are into me — that's no secret. Hey, I'm into them too. I fall in love with girls and guys. I can't help it."
The interview was full of revelations, from Plaza's "major crush" on Natasha Lyonne to her outing of Grumpy Cat ("definitely gay"), but the Advocate profile wasn't specifically a "coming out." Plaza didn't say whether she identifies as bisexual, or queer or both or something else entirely — but the fact that she was able to casually speak about her something-other-than-straightness without the world coming to a halt on its axis is pretty cool.
That's not to say the age of the major celeb "coming out" moment is over — plenty of celebs still need, or want, to issue formal announcements about their sexuality. That's cool too, as long as that's what they want. In 2015, YouTube star Ingrid Nilsen came out as gay in an emotional video that got millions of views and struck a chord with her fans.
But it seems a new era is beginning in which it's also possible for celebrities to open up about their sexualities as an aside rather than the main event. In January, 17-year-old actress Amandla Stenberg came out as bisexual while speaking about representation on the Teen Vogue Snapchat account.
Plaza's fans were plenty happy to cheer her on for speaking about her sexuality:
What Grumpy Cat's big gay moment will look like, however, is yet to be determined.
Read more: