The NRA Finally Responded to Philando Castile's Shooting Death by Police in Minnesota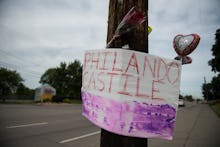 Two days after Philando Castile, a black man legally permitted to carry a concealed weapon, was shot and killed by a police officer in Falcon Heights, Minnesota, the National Rifle Association has finally released a brief statement regarding his death, calling the shooting "troubling," but declined to even mention Castile by name.
"As the nation's largest and oldest civil rights organization, the NRA proudly supports the right of law-abiding Americans to carry firearms for defense of themselves and others regardless of race, religion or sexual orientation," the statement, released on Twitter, read.
"The reports from Minnesota are troubling and must be thoroughly investigated. In the meantime, it is important for the NRA not to comment while the investigation is ongoing. Rest assured, the NRA will have more to say once all the facts are known."
The statement is a stark contrast to the one NRA CEO and Executive Vice President Wayne LaPierre released following the murder of five Dallas police officers during a peaceful demonstration for Castile and Alton Sterling, another black man killed by police just days earlier in Baton Rouge, Louisiana.
"I want to express the deep anguish all of us feel for the heroic Dallas law enforcement officers who were killed and wounded, as well as to those who so bravely ran toward danger to defend the city and the people of Dallas," LaPierre's statement read. "With heavy hearts, NRA members honor their heroism and offer our deepest condolences to all of their families."
Many reacted to the "nation's oldest civil rights" organization's statement, questioning why it took so long and why Castile's name was nowhere to be found.
Many NRA members were outraged at the organization's silence following Castile's death. "I want them to stand up for Philando because it was, based on the details I've ascertained, a cut-and-dry case of a possible assault on someone just because they were exercising their second amendment," one told Mic in a phone interview.
Castile was the 115th black man shot and killed by police in 2016.
Read more: